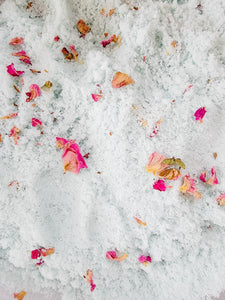 Scented with Cactus Flower & Jade, and infused with coconut oil and dried botanicals, these hand-crafted bath soaks help calm your mind and restore your energy. 
This product weighs 8 ounces.
You can add your bath salt fizzie to a tea bag or a muslin bag if you are worried about the botanicals going down the drain.
Ingredients- Dead Sea Salt, Epsom Salt, Sodium bicarbonate, dried rose petals, Coconut oil, Citric Acid, fragrance, Polysorbate 80- Emulsifer, eco-friendly mica.