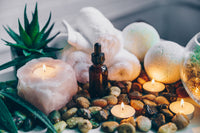 Self-care routine
Making weekly nail and cuticle care part of your self-care routine is an important part of your well-being. 
Shop Cuticle Oil
Customer Reviews
Grimes Ridge Candles and wax melts smell delicious! They are a wonderfully clean burn and the scent isn't lacking the more you burn. Skip those big box stores and shop small!

Jessica Rollins
I just got my first order of candles and they smell amazing! So fresh. I can't wait to light them up. We definitely will be ordering more!

Allie Jefferson
I received my cuticle oil in the Earthy Hemp scent the other day and was amazed, not only at the quality of the packaging, but the oil was so aromatic, and smooth. I made my husband use it as well. It will be a daily ritual in our household!

Courtney Ornelas
Ethereal!!! Winner, winner chicken dinner! Another fabulous scent by Grimes Ridge! Every single scent I have tried is absolutely amazing! I guess I just need to go ahead and order every single scent...you know just to be thorough and make sure! 🤣

On a side not, I looked up the definition to the word ethereal, and it means extremely delicate and light in a way that seems too perfect for this world. Yep, that about sums it up! 🥰

Michelle Ratliff
Who We Are
My Family and I live on a quiet little homestead deep in the woods. From the wind rustling through the trees, to the sound of flowing water or a moonlit path on a still night, Mother Nature is all around us and offers much inspiration. We are after all candle makers at heart; it is woven in to the very fabric of our spirit. Simply put, it is who we are. We understand that the right fragrance can lift us up and renew our energies. It can also enhance the atmosphere of our most quiet sanctuary. Its light can add warmth to our gatherings, or illuminate us while we reflect in our tranquil spaces. We understand that the value of these moments are immeasurable and we feel very fortunate to be able to share our passion for our craft with you. All of our products are made with great care using our own time-tested processes and the highest quality materials. The foundation of this is our wax that we blend in-house, superior wicks made with only natural materials and every fragrance that we use is handpicked to ensure exceptional performance. All that we make is hand-poured and mixed on our land to assure that our standards of quality, purity and performance are met. These are our values, and this is our pledge. Welcome to Grimes Ridge!